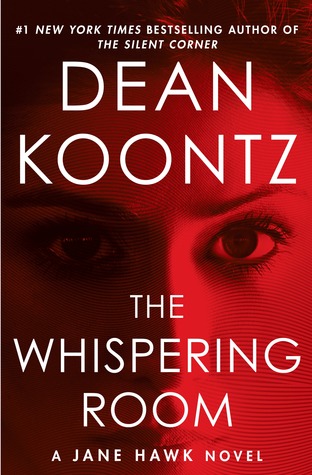 Jane Hawk--fiction's most relentless, resourceful, stunning new heroine--continues her battle against a murderous conspiracy in the riveting sequel to The Silent Corner. "No time to delay. Do what you were born to do. Fame will be yours when you do this." These are the words that ring in the mind of mild-mannered, beloved schoolteacher Cora Gundersun--just before she takes...
| | | |
| --- | --- | --- |
| Title | : | The Whispering Room |
| Author | : | |
| Rating | : | |
| Edition Language | : | English |
---
The Whispering Room Reviews
The Whispering Room, Jane Hawk #2 (NEW RELEASE - Group Read November/December 2017) I Won a Goodread's first edition copy! Link to Koontzland's December 2017 Group Read Discussions: this is #1 out of 4 listed - completed Below is the group linkhttps://www.goodreads.com/event/show/...Jane Hawk, the...

Picked up right where book one left off. A follow-up book two from the Jane Hawk series. And Jane is still on the run. I highly recommend starting at the beginning with 'The Silent Corner' in order to become fully enmeshed.Money, power and sex! The triple threat of human nature that combin...

For good reason there a genre called thrillers, if you looked the term up in the dictionary no doubt a picture of the cover for The Whispering Room (TWR) would be one of those books featured prominently. Rogue FBI Special Agent Jane Hawk is back in her continuing crusade against the cabal that is tr...

When I finished The Silent Corner, the first book in this series featuring FBI agent Jane Hawk, I loved it so much that in my review I urged the author to hurry up and finish the next one sooner than scheduled. He must have heard me, since he beat that original date by a couple of months. And oh boy...

Thanks to Bantam Books/Random house for this ARC. Also thanks to Dustin Crazy little brown owl - moderator of Koontzland - the definitive Koontz Goodreads group - for hosting the giveaway. I say ARC even though it came out two weeks ago, but I got it just a couple of days before the release so I am ...

Time for a confession: I've never read a single book by Dean Koontz. I started The Face once, long ago, and never finished.Maybe it's time to revisit that book. The Whispering Room is a sequel to Koontz's first Jane Hawk book: The Silent Corner. I should have picked it up while it was...

Jane Hawk is back. She's still on the run....a fugitive....a rogue FBI agent. Following the apparent suicide of her husband, Jane discovered a conspiracy, something so evil and diabolical that she immediately knew she had to find those responsible and stop them. A group of powerful, wealthy people h...