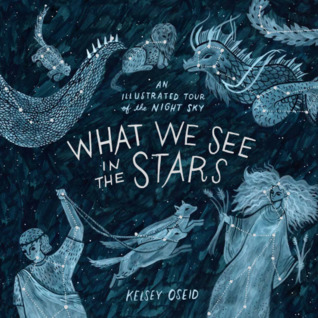 A richly illustrated guide to the myths, histories, and science of the celestial bodies of our solar system, with stories and information about constellations, planets, comets, the northern lights, and more. Combining art, mythology, and science, What We See in the Stars gives readers a tour of the night sky through more than 100 magical pieces of original art, all accom...
| | | |
| --- | --- | --- |
| Title | : | What We See in the Stars: An Illustrated Tour of the Night Sky |
| Author | : | |
| Rating | : | |
| Edition Language | : | English |
---
What We See in the Stars: An Illustrated Tour of the Night Sky Reviews
Do you remember looking up at the stars as a kid, being told that is Orion's Belt, Casiopea's Chair or that is the Big Dipper, and all you could see were stars, not the picture the names suggested. And when you looked at reference books, they weren't much better help.This book is for the kid in us, ...

MY BLOG: Melissa Martin's Reading List...

We took a family trip to a planetarium last year. The boy child swears that I liked it the most of anyone in the family. (I totally did) But it did give us the 'want to know more' when it comes to looking up at the stars. I snatched up this book when given a chance.It has images of the constellation...

My word, this book is, first and foremost, STUNNING. The artwork is by far the loveliest I have ever seen in a nonfiction title. Even if you aren't interested in the stars and learning about constellations, I cannot recommend this book enough as a "coffee table" book - one of those that you pick up ...

In high school, I was an excellent student in every subject that had to do with Languages, Literature, History and so on and so forth. Maths was the very bane of my existence, Physics and Chemistry were very effective sleeping methods and once or twice, I ''fell asleep'' while I ...

Kids that like outer space, astronomy, stars, and constellations will love exploring the night sky with What We See in the Stars by Kelsey Oseid.My kids and I enjoyed several things about this book.It's Beautifully Illustrated.If you've followed my blog for any length of time, you'll know I'm a suck...

What We See in the Stars is a fun and educational book about space. I knew before opening this book by Kelsey Oseid that it would be a book full of gorgeous, mainly blue-and-grey watercolor-like illustrations of the sky and all that it contains. But I wasn't expecting it to teach me as much as ...