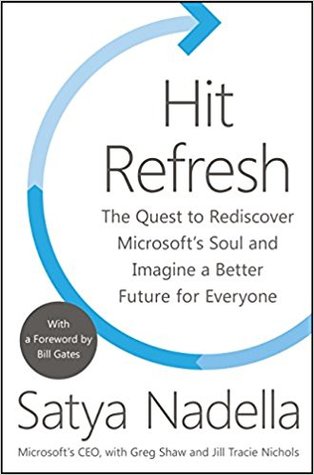 As told by Microsoft CEO Satya Nadella, Hit Refresh is the story of corporate change and reinvention as well as the story of Nadella's personal journey, one that is taking place today inside a storied technology company, and one that is coming in all of our lives as intelligent machines become more ambient and more ubiquitous. It's about how people, organizations and socie...
| | | |
| --- | --- | --- |
| Title | : | Hit Refresh |
| Author | : | |
| Rating | : | |
| Edition Language | : | English |
---
Hit Refresh Reviews
In the first half, I despaired of any value in this book, though I did enjoy hearing about Mr. Nadella's youth in India, his family, and his love of cricket, which would endear him to anyone from the Commonwealth, including me. Like all companies that have owned a powerful franchise (DOS/Windows and...

Recommended for only Microsoft employees. ...

For the first time in 2016 Microsoft offered a free upgrade to Windows 10. That was surprising to me as I had never seen Microsoft offer anything for free. But at that time I didn't pay much attention to the fact and happily upgraded to Windows 10 and encouraged others to do so as well. I checked ou...

Why does Microsoft exist? And why do I exist in this new role? That was the questions Nadella asked of himself when he was offered and appointed as the CEO of Microsoft - only the third CEO in its 40-year history. Why am I writing this book is another question that I think Nadella should have asked ...

Really loved the first half of this book. Overall information was really good but it got a little too technical and regulation based in the back half. ...

As a current Microsoft employee I now like Satya even more after reading his book: Hit Refresh. He comes across as more humble and thoughtful than any other current CEO in the tech sector, yet is just as driven and intelligent. I particularly like his mantra of having empathy for our customers and c...

Another reviewer says this is "Recommended for only Microsoft employees" but I disagree. This book isn't even for all Microsoft employees, for it leaves out a very large percentage us - the contractors. In fact, I wouldn't have read this book at all if my boss, who is a full-time employee and not a ...